Friday, May 07, 2010
Gordon Campbell BC Rail Scandal - Part 4
.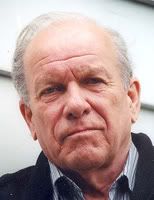 Robin Mathews
Friday, May 7, 2010
A Monstrous Canadian Miscarriage of Justice About To Unfold.
Part Four in the series on the Gordon Campbell BC Rail Scandal.
The miscarriage of justice about to unfold is what I call "the staged trial" about to begin (May 17) as a result of the corrupt transfer of publicly-owned BC Rail to privately (in fact) U.S.-owned CNR.
Canadians sleep-walk through the takeover of their society by thugs and political adventurists. The signs are clear. In Ottawa the cynical Stephen Harper attacks the Supremacy of Parliament [the fundamental safeguard against undemocratic takeover]. His power grab is debated as a question of the need to "compromise" on solutions to the denial of essential information to elected representatives. Those men and women, elected by Canadians, stand embarrassingly naked, (simply) stripped of their power to represent the people who elect them. (And their condition is blurred, misrepresented, and misreported by the "bought" mainstream press and media.)
In Alberta, government allies itself with corporations to produce a (planned) almost unsupervised looting of community and environment – in the tar sands rape. The whole world notices what Canadians shut their eyes to. The April (Paris, France) 'Le Monde diplomatique' features a huge spread on the subject. [translation] "The conservatives in power in Alberta have transformed, with the aid of Ottawa, the north of the province into a supermarket of dirty oil for the profit of multinationals and the U.S. neighbour. The boreal forest is being sacrificed as are the first nations of the region." The story concentrates on the cynical erasure of native rights –which in recent decades have been a symbol that Canadian democracy was alive and demanding universal equality.
In British Columbia I allege that the Gordon Campbell government - aided by a depressingly servile journalism (mainstream and other) – is engaged in an almost incredible collaboration with RCMP, the higher courts, and the formal political Opposition (poster-group for the failure of Opposition in Canada) - asleep, bribed, or stupid – to hand the province to thugs and political adventurists.
That involves, as we will see, the calculated destruction of law and the administration of justice in the province.
Public wealth is being gifted to private corporations by sleight-of-hand, often in secret contracts, and – I allege – by criminal activity (elaborately uninvestigated by the RCMP). The tax burden is being lifted from the corporations-in-close-cooperation with the Campbell group and laid on an increasingly impoverished population. Education is being attacked. Protection of children is being slashed by calculated legislation. The new Clean Energy Act is a simple ruse to destroy the publicly accountable B.C. Utilities Commission. A slow, continuous undermining of universal health care is – to the observing – a calculated, continuous government policy.
In short, all levels of accountability to the public for the use (and misuse) of government and corporate power are being undermined or destroyed outright in British Columbia.
The Canadian scene is mirrored throughout the Western World. The meltdown of financial institutions in the last years – and the present impoverishment of whole countries - is the result of government becoming an arm of private corporate behaviour. So-called international institutions (the World Bank, the International Monetary Fund, etc.) – which are in fact ruled from the U.S. - practice the destitution of nations to give advantage to private corporations.
In Venezuela – fiercely democratic – the foreign, private, corporate throttle-hold on natural wealth has been broken. Poverty levels have fallen dramatically. Health care and education for the population have increased hearteningly. The financial state of the country is better than many in the European community AND the U.S. whose massive indebtedness is disguised behind pre-eminent military power. Unable to describe Venezuela as 'communist', 'terrorist' or 'muslim fundamentalist' U.S. Secretary of State Hiliary Clinton urges the country to return to health and the "market economy" as the U.S. builds (in violation of the Colombian constitution) more than a dozen new military bases in Colombia to "encircle" (?) Venezuela.
The Enron disaster was followed by the private banks collapse and the now on-going Goldman Sachs investigations. Those are not the proverbial "few rotten apples in a barrel". They represent the barrel itself, rotten, and contaminating everything inside the barrel, a system of government-protected criminality intended to transfer power from the population (in fact) to the private corporations - and to effect that transfer globally.
That, in short, describes the practice of the Gordon Campbell government in British Columbia. I insist it is "a system of government-protected criminality intended to transfer power from the population to the private corporations", and doubtless to the delight of Hiliary Clinton – in B.C. they are mostly private corporations integrated with or, in fact, a part of the U.S. corporate capitalist system.
How, you might ask … how does the trial of three really unimportant British Columbia cabinet aides (all of whom happen to be local Sikhs) for (variously) allegations of fraud, breach of trust, and money laundering (engaging in bribery for petty personal advantage, etc.) have anything to do with the global meltdown before our eyes?
Draw near. Listen carefully. I will tell you.
As the new century opened Gordon Campbell began his manipulations towards power in the province. I believe he was involved in what I have come to call 'the fraudulent investigation and trial of Glen Clark", NDP premier accused of seeking benefits in the building of a ten or twelve thousand dollar sundeck on his modest Vancouver East home. Clark was ruined as the result of a protracted public RCMP investigation and a 136 day trial (which found him innocent of all allegations of wrong doing). B.C. press and media excelled themselves in yellow journalism. The RCMP investigation was highly suspicious. The NDP was left in disarray (and two former premiers called for a public inquiry into the whole matter).
Gordon Campbell came to power, wading through the sleaze created by what I believe were a wholly trumped-up investigation, trial, and media rape.
Campbell intended to destroy the major publicly owned sources of wealth in the province, to hand all natural wealth to private corporations, to shift taxes from those corporations to the public, and to create an increasingly disenfranchised population with a lower and lower standard of living. He has engaged in those activities since he took power. And he has built a huge tax-paid propaganda machine – as well as neutering the major press and media in the province – in order to complete his work in a fog of deception and misinformation.
Somehow he has been gifted with a formal political Opposition which appears (to me) to cooperate with his worst intentions by failing to provide effective criticism, public education, or action to bring his wrong doing to account. That Opposition concentrates on whatever is trivial in the Campbell policy, NEVER providing analyses of the kind that is written here.
The first thrust of Gordon Campbell policy to destroy the publicly-owned, viable, and long-term wealth of the province began with the corrupt transfer of BC Rail to the CNR. (I believe that undertaking involves criminal wrong doing which the RCMP refuses to investigate. Other privatizing activity of the Campbell government, I believe, as well, involves criminal wrong doing that goes relentlessly uninvestigated by RCMP.) See the comment on my belief by RCMP Deputy Commissioner Gary Bass below.
The Campbell sleight-of-hand has been made possible by a shift of perception in the West – fostered constantly by the corporate press and media. The courts and the police have accepted – almost blindly – that "government" activity, however plainly in breach of the trust placed in government by the voting population, MUST be seen as legitimate.
In the case of the BC Rail Scandal, I have concluded after years of study and attendance at the pre-trial hearings in court that Gordon Campbell and his associates constructed a wholly false picture of BC Rail. Flying in the face of his election promise, they set to work by misrepresentation of fact, by actions to disable BC Rail efficiency, by fragmenting and disintegrating an effective structure, and by employing supporters, paid officers, and a large civil service to prepare an essentially fraudulent case for the "sale" of BC Rail to CNR.
As part of that program and policy they constructed a wholly false "public auction" and "open bidding process" for BC Rail which was – from the earliest point – intended to transfer and did transfer BC Rail to the CNR.
If – you may ask – the "fix" was in so early, and if the fraudulent policy was pursued with relentlessness, how did Gordon Campbell and his associates get trapped into permitting a criminal investigation of three really unimportant British Columbia cabinet aides who were small parts of the huge machinery set up to "sell" BC Rail.
The answer to that question necessarily involves some speculation. As early as 2001 RCMP and Victoria police began a large investigation into growing drug activity. The Force used wire-taps as well as other kinds of investigation.
As it investigated for at least 20 months, findings pointed in many directions – possible money laundering, Agricultural Land abuses, profits of crime, BC Rail misdoings, as well as drug trade activities. Many RCMP officers became involved. The investigation took on the name "every-which-way" and led, it is alleged, into B.C. legislature offices.
That is the point at which an "investigation crisis" appears to have been reached. RCMP believed serious misconduct may have been involved in the preparations for sale of BC Rail. Cabinet aides might be alleged to have been involved in the transfer of confidential cabinet information … for personal advantage.
At the same time, the cabinet - RCMP seems to have suspected – may have been engaged in highly questionable activity in the BC Rail affair. Minister of Finance Gary Collins, for instance, was under surveillance … and was being investigated by RCMP. Attention upon Collins had to connect with the rest of the cabinet and with Gordon Campbell, the architect and author of the corrupt transfer of BC Rail to the CNR.
That was in the fall and early winter of 2003. That was the time when, apparently, certain matters came to an abrupt (and unrecorded) conclusion. A few (at least) cabinet members and high civil servants were consulted about the coming (Dec. 28, 2003) search warrant "raids" on the legislature offices of Dave Basi and Bobby Virk (and some other offices and locations in Victoria and Vancouver). No plan was on foot to examine the office of Minister of Finance Gary Collins or the office of Gordon Campbell.
Foreseeing that criminal charges would arise out of investigations, a Special Crown Prosecutor was sought. More than one (in series) was appointed. I have asked Attorney General Michael de Jong to review and report on the matter. He won't do it, and he won't answer my last letter on the subject. (Seeking through a list for a Special Crown Prosecutor who will do the bidding of the Attorney General or his allies is a primary violation of the purpose of the Special Crown Prosecutor who is – by definition – someone who must be completely impartial AND be perceived to be so.)
We know that early in December, 2003, the RCMP had Gary Collins in their sights. We know that William Berardino was appointed Special Crown Prosecutor on or about December 12. And we know that - almost at that date – all investigation of Gary Collins ceased without any available record of termination. We know that the now-famous search warrant raids on the legislature offices of Dave Basi and Bobby Virk were conducted on December 28 and that, immediately, the RCMP announced that no "elected" official was under investigation or would be.
From December 28, 2003, only Basi, Virk, and Basi were pursued. Every Gordon Campbell cabinet member and every Campbell MLA was an "interested" party in the criminal trial to follow. That is because the three cabinet aides charged (Basi, Virk, and Basi) were all servants of the cabinet and/or the "Campbell government". Cabinet and MLAs (and top civil servants) had to be "interested" because the three men were at work not only on "government business" generally but also specifically at work on the corrupt transfer of BC Rail to the CNR.
What began as a drug investigation shaped into a many-pronged effort, including search of the corrupt sale of BC Rail. At a point in 2003, however, by what appears to have been an agreement between the cabinet and the RCMP, all investigation of "elected officials" ceased and all effort was focused on the three cabinet aides.
It is almost as if the RCMP said "we won't end these months and months of investigation – and conduct raids on the legislature – without laying some charges." And it is as if the Campbell group said: "Okay, go after those three lackeys. That'll look good, and it'll paper over the real authors of the fraudulent activity undertaken to dump BC Rail".
Persistently requesting the RCMP to do a major, publicly announced investigation into wider aspects of criminal involvement in the BC Rail Scandal, I received another reply from Deputy Commissioner Gary Bass dated April 15, 2010. In it he answers in a way which is so murky a reader might believe the RCMP is investigating … or that it is not. Here are his words, for the reader to decide what Commanding Officer Bass is saying:
"Certain aspects of the sale of BC Rail are, as you know, still before the courts. The RCMP does not comment publicly on investigations. The rationale for this approach is to preserve the privacy rights of individuals as well as to maintain the integrity of our investigations. I have every confidence that the operational units tasked with carriage of this and related matters will make sound decisions with respect to the appropriate steps that need to be taken."
We know now, too, that William Berardino was appointed – flying in the face of all Crown Counsel, all Special (Crown) Prosecutor, and other relevant Prosecutor legislation – as Special Crown Prosecutor. We know that he was appointed by a ministry in which the Attorney General, Geoff Plant, had been his partner and colleague for seven years. The Deputy Attorney General, Allan Seckel, had been partner and colleague of Mr. Berardino for eleven years. By every statement and every intention of legislation creating the position of Special (Crown) Prosecutor the appointment of William Berardino was improper.
As I said a little earlier, every member of cabinet (and every highly placed member of the civil service) was an "interested" party in the coming trial of the three cabinet aides. And so the appointed Special Crown Prosecutor should have been someone who had no contact whatever with cabinet or high civil servants. He (or she) should have been unassociated at any time with the three accused men AND with any member of cabinet and any high civil service operative. Instead, William Berardino's connections and contacts were high level, long term, and … one might fairly suspect …may have been the reason he was appointed to the post!
In 2005 (about two years after being appointed), when Geoff Plant very strangely left politics, Mr. Berardino contributed election money to the campaign of Plant's replacement, Wally Oppal. (Mr. Oppal is presently facing a civil action for allegations of misusing the Attorney General role in the appointment of a Special Crown Prosecutor.) We know, too, that in the Spring of 2007 when Gordon Campbell may have felt endangered by cabinet evidence being revealed in the Basi, Virk, and Basi case, he unilaterally dissolved the working process by which Defence received cabinet materials believed relevant to the defence of the accused.
Campbell announced that authority for disclosure of cabinet materials would henceforth be placed in the hands of Allan Seckel, Deputy Attorney General. Campbell added that Mr. Seckel would consult on the disclosure matters with the Special Crown Prosecutor William Berardino who just happened to have been a partner and colleague of Allan Seckel's for eleven years – and only a few years before Seckel was named Deputy Attorney General.
The wrongful appointment of William Berardino alone, I believe, is grounds for stopping the actions arising from the corrupt sale of BC Rail to CNR – until a new Special (Crown) Prosecutor can be named and all investigations (and charges) completely reviewed and amplified to include persons alleged to have been centrally involved.
Even the Vancouver Sun – pretty obviously a supporter of the new private corporate form of government and of 'the Gordon Campbell system' - got trapped into admitting the real situation. It declares that the present fiasco (only the most recent one) over a Special Crown Prosecutor gives no reason for "indictment of the B.C.'s special prosecutor system". Then it goes on to show (in fact) that Attorney Generals Geoff Plant, Wally Oppal, and now Michael de Jong (in a row) have all misused the power to appoint.
The Sun editorial says (correctly) that Special Prosecutors "are senior lawyers in private practice who are hired in cases where there may be a perceived conflict of interest for a Crown prosecutor, usually because an alleged offence involves a politician, a senior public servant, a police officer or an employee in the justice system." [Sun, May 6, 2010 A14]
Geoff Plant was Attorney General when William Berardino was appointed. Wally Oppal was the Attorney General who is presently facing a civil trial for allegedly rigging appointment of a Special Prosecutor in the Bountiful bigamy case. And Michael de Jong sat unperturbed (and apparently unchecking) as Terry Robertson was appointed in the Solicitor General, Kash Heed affair.
Three Attorney Generals in a row messing up. That may be proof to the CanWest paper that the "system" is working. It will not be proof to the rest of Canadians.
The revelations presented here, so far – only skimming the surface of the BC Rail Scandal – might fairly lead observers to some very negative conclusions. In addition, the Attorney General's ministry refuses to discuss the appointment of Mr. Berardino on the false grounds that his appointment (in 2003) is included in present sub judice matters in the present Basi, Virk, and Basi case. Now, Michael de Jong refuses to respond in any way to correspondence on the matter. He is trying, I believe, to escape facing the wrongful appointment by disappearing into silence.
By the same token, the Chief Justice of the B.C. Supreme Court, the Associate Chief Justice, and the trial judge – Madam Justice Anne MacKenzie refuse to discuss Mr. Berardino's wrongful appointment. They have not answered my last letter on the gravity of the matter.
In addition, RCMP Deputy Commissioner Gary Bass refuses (as far as I have been able to determine by asking him directly) to move in any way to undertake public criminal investigation of Gordon Campbell and his associates in the corrupt transfer of BC Rail to CNR.
One negative conclusion is that the three accused men – whatever their guilt or innocence - have been chosen, targetted, and set-up to provide a focus of wrong in the BC Rail Scandal in order to provide cover for those I believe, are the major and dominating people in what was a concerted policy and program involving (at least) criminal breach of trust.
To put the matter in the context of the breakdown of democratic accountability all over the Western world, I firmly believe the major "protective" institutions in the province are engaged in the calculated destruction of the law and the administration of justice in the province. By the major "protective" institutions I mean the Attorney General's ministry (the cabinet), some major Supreme Court officers, the BC RCMP, the mainstream press and media, and the conventional political Opposition party in B.C.
In short "the system" being operated in British Columbia at the present is more and more one in which criminality is protected and/or participated in by government, police, press, and the courts. The criminality may – incidentally – provide access to 'dirty wealth' for some individuals. But its primary purpose is to transfer power from the population to private corporations greedy for more and more "governmental" power. The purpose of the present system in British Columbia is to end meaningful democratic, representational government and democratic accountability.
That is why the Gordon Campbell government is tripping over its feet every day now. And it is why – as things stand – the trial of Dave Basi, Bobby Virk, and Aneal Basi (scheduled to start on May 17) can be nothing but a huge, fraudulent, theatrical event.
""""""""""""""""""""""""""""""""""""""""""""""""""""""""""""""""""""""""""""""""""""""""""""""""""
The BC corruption story has found its legs and is travelling. I haven't posted all the findings because, as I've said previously, it's the same story repeated over and over again about the Special Prosecutors and their alleged conflict of interests. But I thought this one was geographically interesting ... whoever heard
of Wapakoneta, Ohio? But here's the story of Bill Berardino in Wapakoneta Ohio Daily News - headlined
BC Rail prosecutor defends Liberal donation
Wapakoneta Daily News
www.wapakdailynews.com/content/view/156067/77/
[but for some reason, they won't let us see it until we get "authorized"!]
Comments:
An awesome essay as usual Robin. But to add some context to this part:
"
As the new century opened Gordon Campbell began his manipulations towards power in the province. I believe he was involved in what I have come to call 'the fraudulent investigation and trial of Glen Clark"
"
A preliminary step on Gordo the Greedy's ascent to head thief and liar was the drive by character assasination of Gordon Wilson. This was necessary so that Lord Gord could become leader of the BC Liberals (who actually were kinda like the federal brand at the time - center or even a bit left of center ). Normally Gord would have become leader of the Socred party, but it had been debased by the younger Bennett and then even moreso, though more trivially by Bill VanderZalm.
I find it especially rich that Gordo should have wrested the party from the other Gordon under such circumstances, considering the state of Gordo's domestic secret life today. For all the pain that Gordon Wilson and Judy Tyabi undoubtably caused themselves and their families, at least they eventually resolved things and are now married, OPENLY,
to each other.
In the bad Gordo's case it would appear there is at least one child(and one or two folks have mentioned a possible second) that for all practical purposes do not exist, just like Lara Dauphinee must be some kind of vampire that cannot be captured by film or digital photography.
I wonder how it feels to be a child, especially of a well known (and well hated) figure and essentially NOT EVEN EXIST? What kind of adult will this person become? Probably a criminal, as the apple doesn't fall far from the tree.
When one considers how petty were the scandals and cover-ups that brought Dick Nixon down after winning the largest margin of victory ever in 1972 compared to the rampant crime spree underway under Gordo, it is difficult to imagine that once the dike breaks these guys won't be at the least out of office and more appropriately incarcerated and forced to wear an ankle bracelet for life if ever paroled.
Otherwise, we may as well move elsewhere and leave what's left of BC to join with Alberta to form a new post-democratic country that can join the axis of evil and greed and form a coalition with such as North Korea, Myanmar, Iran and Columbia. BC is well on the way to outlaw status, they already ignore UN sanctions, signed contracts, and court rulings -and "due process" is a meaningless term in this jurisdiction already.
Post a Comment
<< Home